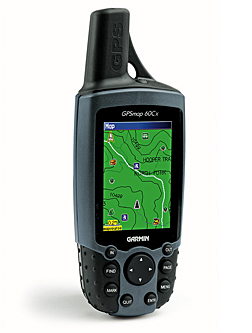 Congratulations GPS Winners

büji® received more than 7500 entrants in our 2006 GPS sweepstakes. Congratulations to Laura Garmendia of PA and John Vassel of MI, the lucky recipients of a Garmin GPSMAP 60Cx handheld GPS, valued at $500.

Laura is new to geocaching, encouraged by her outdoorsy friends to enter and get more involved in the game. John is an occasional cacher who spends a lot of his free time as a volunteer firefighter.

We're thrilled to provide a killer GPS to both a newcomer and a caching veteran. Laura and John also received 2 oz tubes of büji Wash™ and büji Block™ to use out in the field. Thank you to everyone who entered.


Cache Calamities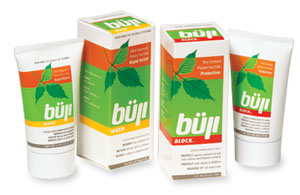 Boo to You "theExterminator" Some nefarious cacher going by the handle "theExterminator" has terminated four travel bugs. After a long period of silence from their Kayak Guy travel bug, the Killsnake Creakers tracked him down and discovered he was last seen with theExterminator.

TheExterminator made a game of looking for travel bugs and removing them from "infested" caches. One of his victims had traveled over 14,000 miles before falling prey to this cacher's nasty diversion. That log read: "Hunted down cache and found a bug had entered container, exterminated bug and replaced cashe (sic), good to go, theExterminator."

Killsnake Creakers, whose Kayak Guy bug had traveled nearly 3,000 miles, contacted theExterminator and asked to have their bug returned to circulation. They haven't received a response. The mystery cacher appears to have been active for just one month and has recently terminated his account.

Do you have a Cache Calamity story to share? Was your carefully placed cache mistaken for a bomb? Injure yourself trying to reach a precarious hiding spot? Get a bad case of poison ivy? Tell us about it by sending an email to cachecalamity@cadelabs.com. We'll post your misadventures and photos at www.bujiproducts.com/geocaching. If we feature your story in an upcoming newsletter, we'll send you a full size büji Block and büji Wash.


Trail Ways



If you're a spring hiker, you know that weather can change dramatically from one hour to the next. For optimum comfort and safety, dress in layers that keep you warm and dry.

Basic layering systems have three components: moisture management, heat control and wind protection.

Your base layer, the one next to your skin, is the wicking layer. It should move perspiration away from your skin. Avoid cotton because it dries slowly and will hold moisture, including sweat. Synthetic fibers, like polyester, dry quickly and pull perspiration away from your skin. Silk is another comfortable option, and many newer silk blends are machine washable.

The second layer is for insulation. Adjust the weight of this layer according to weather conditions. This layer should also continue the wicking process away from the base layer. Fleece is a popular, quick-drying choice.

The outer layer is for weather protection, primarily wind and rain. A basic rubber slicker may keep the rain out, but you'll sweat yourself damp from the inside. Instead, look for the words waterproof and breathable on the label. This industry-standard rating will help you evaluate the quality and design of a jacket. If you're more concerned about air flow, rather than keeping dry in a downpour, fabrics rated water-resistant will suffice for a soft drizzle.

Scientists have developed many specialty materials to keep you comfortable on the trail. Even wool and silk are getting upgrades. There are so many options on the market today, you don't have to invest a lot of money to take advantage of new fabric technology. Check it out. After all, the more comfortable you are, the longer you can stay on the trail.

For more trail tips, including a packing list specifically for the geocacher's daypack, visit büji at www.bujiproducts.com/geocaching.


Beyond Geocaching



For a new kind of off-trail adventure, try orienteering. Leave the GPS at home and navigate through the woods using a map and compass.

In standard orienteering, participants follow a detailed map using topography and natural features to find control points or hidden markers. In competitive orienteering, participants race to complete the course, often using punch cards to verify each marker visited.

Although many orienteering courses are set up for temporary, one-day events, plenty of clubs have established permanent courses in cooperation with their local state parks and recreations areas.

For more information, visit the US Orienteering Federation web site at www.us.orienteering.org. Click on "Clubs" for orienteering courses and activities in your area.





büji® is the only poison ivy dual-acting system with SPF 24 designed to prevent skin reactions before they start.


büji Block provides an invisible layer of protection that helps prevent irritating poison ivy oils from penetrating your skin while offering SPF 24 sunscreen protection.


We took buji Block to the experts for review. In a clinical trial by an independent third party testing lab, büji Block showed amazing efficacy against poison ivy/oak. See our testing page for details.


After exposure, turn to büji Wash™, an extremely effective exfoliating cleanser designed to remove the plant oils from your skin ANYTIME after exposure or breakout.


Ditch the pink stuff. büji Wash works 10 min, 10 hours, 10 days after exposure. Use it even after your rash appears for immediate relief of itch and irritation.



Help Wanted
Skin Care Professionals

büji is seeking dermatologists with active lifestyles to work with us on new product development and other marketing opportunities. Please send inquiries to jgray@cadelabs.com.



Outdoor Enthusiasts

büji is expanding its line of outdoor skin care products, and we want your help.

From dry skin to cracked lips and wind burn, join the büji Smart Panel and tell us what really chaps your hide!

Smart Panel members will be sent occasional product surveys and samples and are eligible for prizes and rewards.

To sign up, email SmartPanel@bujiproducts.com and give us your thoughts.



GeoWoodstock

büji is excited to be the primary sponsor of the 5th annual GeoWoodstock, to be held on Saturday, May 26, 2007, at the North Carolina State Fair Grounds in Raleigh.

GeoWoodstock is the largest event of its kind, hosting geocachers from all over the country (and even some from Canada and Europe) for a weekend of fun, fellowship and geocaching adventures in the great outdoors.

Organizers are expecting more than 1200 folks to attend this year's event. Look for us on geowoodstock5.com and at the fairgrounds.